"Top chefs across the globe wear H&B, so putting one on is basically like Superman slipping into his cape."
"This apron is cuter than most of my actual clothes"
"As practical as it is pretty."
"The crowd favorite: Hedley & Bennett Crossback Apron"
What makes an H&B apron special?
We spent thousands of hours reimagining the apron. Every detail from the reinforced stitching to our premium fabrics are engineered to last you a lifetime. If you spend any time in the kitchen this apron is for you.
shop aprons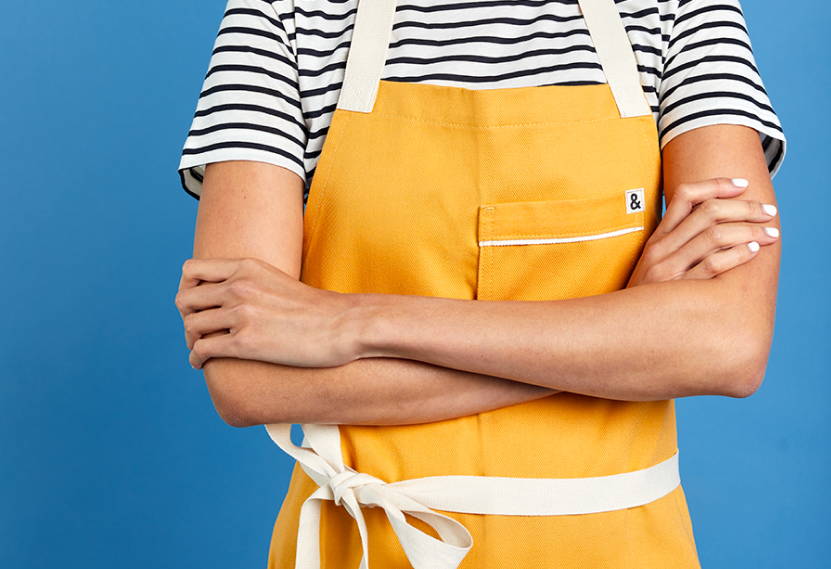 Tried, Tested, and Approved!
See what our customers are saying
Beyond Grateful
So happy with my purchase. Finally, someone figured out how to make the best apron. I wear it with pride. Can't wait to get another one.
- Bambi
5 Star Apron
This apron is durable and stays in place. It also cleans easily. I run a juice bar and i get covered by beet juice etc everyday. It all comes out of the apron and my clothes stay clean. Love it!
- Sarah
Amazingly Comfortable!
I have been enjoying my aprons. They are super comfortable and light don't want to take them off. Love the color it's a must have in your collection. Beautifully made!
- Lena
Beautiful Color and Quality
I own A LOT of aprons and none of them compare to the quality of this one. The fabric is thick but definitely not stiff, the color is beautiful and the apron overall is very very comfortable. I'm def buying another.
- Mariela
Best Apron Ever
I always wanted a Hedley and Bennett apron, and finally I decided to buy one for myself. The craftsmanship is just incredible! This apron is such high-quality, you really won't find one like it. It washes beautifully and is super durable.
- Rosalva
Top Notch
I've wanted one of these aprons for a long time. I do a ton of bbq and am smoking meat weekly. It's awesome to have such a solid and strong apron to protect my clothes. Thanks and keep up the good work! 0 0
- Andrew
Style and Substance
Review by Amy B. on 24 Jun 2021review stating Style and substanceThe color of this apron is just beautiful. It brightens up my kitchen when hanging on the wall. It also very sturdy. This does a job and does it well.
- Amy
Favorite Apron
I absolutely love my new apron. It fits me well even though I am on the petite side. The color is gorgeous and I can tell it will last me a long, long time.
- Bekah
"The aprons I wore in Michelin star kitchens couldn't stand up to the pressure, so I set out to make a better one: something as beautiful & thoughtful as the food I love to make"
Ellen Marie Bennett
Founder & Chief Apron Officer